According to the overall deployment of the digital economy system construction of Zhejiang Province this year and the requirements of the Notice on Organizing the 2022 Zhejiang Province Future Factory Pilot Application and Soliciting Smart Factory and Digital Workshop Cultivation Projects issued by the Economy and Information Technology Department of Zhejiang, Zhende and another 34 enterprises have been nominated as the future factory pilot enterprises for 2022 following the enterprises' application, local recommendation and the expert review organized by the Economy and Information Technology Department of Zhejiang.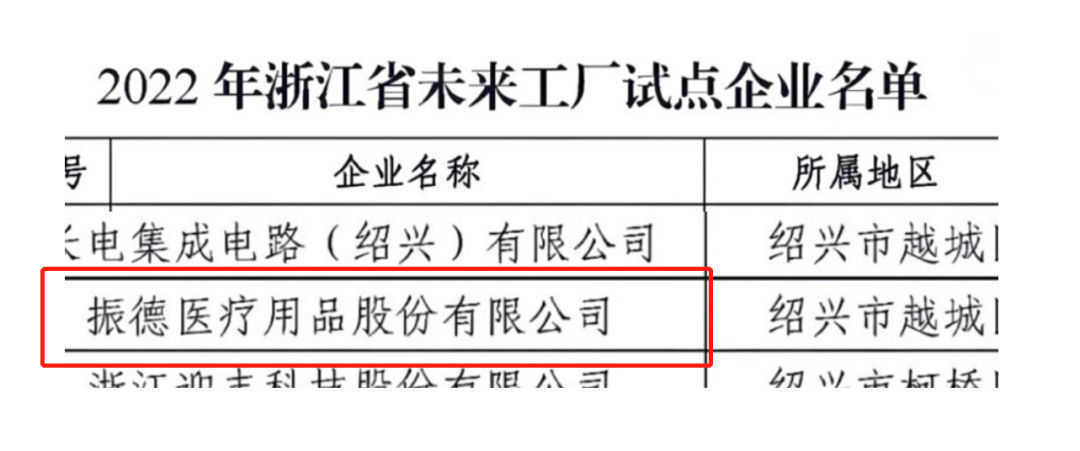 △Zhende is on the List of the 2022 Zhejiang Province Future Factory Pilot Enterprises
Future Factory is one of the major initiatives for digital transformation and digital economy system construction in Zhejiang and is a strong supporter for the establishment of a state-of-the-art manufacturing base in the province.
Zhende, a leading supplier of healthcare products and protective equipment in China, has relied on a thousands mu of manufacturing base to vigorously promote the construction of intelligent future factory.
Last year, we had transformed and expanded our production workshop and applied lean manufacturing in the overall optimization of the production process. Meanwhile, we invested in the development of a large number of non-standard automation equipment and managed to increase the average work efficiency at the production line and improve product quality markedly. The application of digital management also brought our production management to a higher level and drove overall improvement of our supply chain efficiency.
The comprehensive supply chain network of Zhende covers the whole process from product manufacturing throughout delivery and allows the company to respond quickly and deliver quality products and solutions to meet market demands. Besides, the streamlined production model helps reduce 65% of the on-site work and improve the per capita production efficiency by more than 25%.
△ Automated Workshop of Zhende
In response to the call of the government, Zhende will step up digital design, intelligent production, digital management, green manufacturing and safety control in the process of future factory construction.